The first global clinical trial in desensitization of peanut-allergic children and adults using the novel Viaskin® Peanut is underway.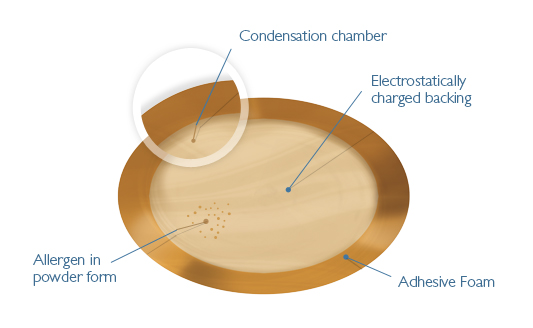 ALLERGY is a burgeoning disease, and food allergies represent the segment where life can be directly threatened. In the U.S., more than three million people are allergic to peanut. Indeed, peanut allergy causes about 100 to 150 deaths each year in the U.S.—but no treatment is currently available. Until now, avoidance of the culprit food has been the primary solution.
"Since there are no treatments for food allergies, many children and their families live with the constant fear of ingesting a life-threatening food," says Pierre-Henri Benhamou, MD, a pediatrician and the co-founder and CEO of DBV Technologies.
"Patients with food allergy are handicapped by a strict avoidance diet and many times a lifelong-lasting disease. In addition, they may face the daily risk of a fatal reaction," adds Hugh Sampson, MD, Chief, Pediatric Allergy & Immunology, The Mount Sinai Medical Center, and the principal coordinator for the U.S. Viaskin Peanut clinical trial.
An 'allergy' is caused by an over-reaction of the immune system to a substance called an 'allergen' that our immune system should have 'learned' to tolerate—such as peanuts. An allergen triggers a cascade of immunologic events that can range from itching to death via anaphylactic shock.
The goal of 'desensitization' to an allergen is to increase the amount of allergen that the patient can eat or breathe without any symptom. Ultimately, the patient could become 'tolerant' to the allergen and live normally. Conventional immunotherapy in the form of injections, drops or pills — used for airborne allergens such as pollens and venom such as bee stings — consists of exposing a patient to a controlled amount of allergen; sadly,  these 'conventional' treatments are too dangerous for desensitizing food-allergic patients because their mechanism of delivery can include entering the bloodstream, which could stimulate a deadly systemic reaction. Thus, a therapy combining safety and efficacy is desperately needed.
'VIPES' U.S. Clinical Study
The safety of Viaskin® Peanut was established in a large Phase 1b clinical study in the U.S. Now, DBV Technologies is in the midst of a Phase 2b clinical study of its VIASKIN® Peanut patch designed to desensitize patients to peanut allergy. The study—"A Double-Blind, Placebo-Controlled, Randomized Trial to Study the VIASKIN® Peanut's Efficacy and Safety for Treating Peanut Allergy in Children and Adults', also known as the 'VIPES' study—includes sites in Boston (2), Chicago, cincinnati, Dallas, Philadelphia, San Diego and Stanford, Calif. Subjects range from 6 to 55 years old with a history of immediate hypersensitive reaction to peanut protein. Viaskin® Peanut has been granted 'fast-track' status by the FDA.
"Peanut sensitivity is one of the leading causes of fatal food reactions, making peanut allergy a major health concern worldwide, which is why the VIPES study is so important," says Dr. Hugh Sampson.
"The only available countermeasure in case of severe systemic or life-threatening reactions (anaphylaxis) to peanuts is injectable epinephrine as recommended by the World Allergy Organization," adds Dr. Benhamou. "But it is a rescue therapeutic agent not designed for routine use.
"VIPES is designed to determine per patient the ability to consume, symptom-free, an amount of peanut significantly higher after 12 months of treatment, resulting in a clinically meaningful benefit," says Dr. Benhamou, who was the winner of the Altran Foundation Prize for Innovation in 2003 for his work on the development of patch tests for the diagnosis of cow's milk allergy.
Intact Skin Is Key
Viaskin® is a novel and proprietary technology for administering an allergen or an antigen to intact skin, thus avoiding massive transfer to the blood. VIASKIN® is a highly versatile technology, able to target the most dangerous allergies such as Peanut, the most vulnerable patients such as children, and other applications involving the immune system, such as vaccination.
Designed to be easily and painlessly applied, VIASKIN Peanut is a drug for specific epicutaneous immunotherapy (EPIT™). This innovative method consists of a skin patch that enables desensitization by placing the allergen in contact with the immune system via the skin while avoiding passage into the blood. Once the allergen has entered the epidermis, it is captured by a population of highly specialized antigen-presenting immune cells called Langerhans cells, located near to the stratum corneum. These cells' function is to capture all information that crosses the stratum corneum and present it to immune system cells in the lymph nodes in order to modulate the immune response.
"Published clinical data suggest that this new Viaskin approach for specific
immunotherapy may be invaluable in clinical situations where injection or oral consumption might put the patient at risk," says J. Andrew Bird, MD, Assistant Professor, UT Southwestern Medical Center, and a Viaskin principal investigator.
"We are also studying the  safety of Viaskin Peanut, with the analysis of frequency, duration, and severity of adverse events triggered by Viaskin versus placebo," says Terri F. Brown-Whitehorn, MD, Attending Physician, The Children's Hospital of Philadelphia®; Associate Professor of Clinical Pediatrics, Perelman School of Medicine, University of Pennsylvania.
Eight U.S. Clinical Sites
The international VIPES clinical trial of Viaskin® Peanut is being conducted at 8 U.S. sites: Boston Children's Hospital, Lynda Schneider, M.D., Assistant Professor of Pediatrics at Harvard Medical School; Children's Hospital of Philadelphia, Terri F. Brown-Whitehorn, M.D., Attending Physician, Allergy Division; Ann and Robert H. Lurie Children's Hospital of Chicago, Jacqueline Pongracic, M.D., Professor of Pediatrics and Medicine, Northwestern University Feinberg School of Medicine; Cincinnati's Children's Hospital, Amal Assa'ad, M.D., Professor, University of Cincinnati Dept. of Pediatrics;  Massachusetts General Hospital, Wayne Shreffler, M.D., Ph.D., Director, Food Allergy Center; Rady Children's Hospital San Diego, Stephanie Leonard, M.D., Director, Food Allergy Clinic; Stanford University, Kari Nadeau, M.D., Ph.D., Associate Professor, Pediatric & Immunology, School of Medicine; and, UT Southwestern Medical Center, J. Andrew Bird, M.D., Assistant Professor of Pediatrics and Internal Medicine.
"We are extremely pleased to be working with some of the leading physicians and institutions in the United States," adds Dr. Benhamou.
"Peanut allergy significantly degrades the quality of life in sufferers. In a recent study published in the journal Pediatric Allergy and Immunology1, researchers in the U.S. showed that people suffering from severe peanut allergy had the same quality of life score as insulin-dependent diabetics," says Dr. Benhamou.
"For some food allergies, conventional desensitization products such as injections, tablets and drops cannot be used routinely because of safety problems. In fact, some food allergens, such as peanut proteins, cannot be safely injected or ingested by allergic patients because of the strong risk of anaphylactic shock," says Dr. Benhamou."Hence, treatment of food allergies is a major unmet medical need."
(*Dr. Hugh Sampson participates on the Scientific Advisory Board of DBV Technologies; his compensation is $1.00 annually for his participation.)
1 Avery NJ, King RM, Knight S, Hourihane JO. Assessment of quality of life in children with peanut allergy. Pediatric Allergy Immunol. 2003;14: 378-82.