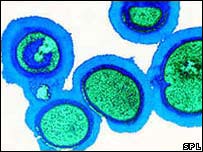 In July, Cepheid reported $42.1 million in second quarter revenues, a 55% jump from the $27.2 million reported in Q2 2007.
Growth was been driven by hospitals intent on countering the growing scourge of healthcare associated infections. Sales of Cepheid's Xpert MRSA test (first approved in April 2007) increased 35% from the first quarter, reaching approximately $11 million. Growth was driven in part by a group purchasing contract with Novation, which made its GeneXpert System and Xpert MRSA tests widely available in the U.S. at lower, pre-negotiated prices.
This week, Cephied, received FDA clearance to market its Xpert MRSA/SA Skin and Soft Tissue Infection test for the rapid detection of MRSA and staphylococcus aureus (SA). The new indication could expand already substantial demand for the diagnostic.
The company's previous MRSA test determined if one was a carrier of MRSA using a nasal swab. The new test, in less than one hour, can determine if a suspect infection is MRSA or a lesser staph infection. Becton Dickinson offers a similar rapid diagnostic combination assay using nasal swabs.
Current culture-based lab testing methods take 24-72 hours to determine if a suspect infection is methicillin-resistant. As a result, physicians and surgeons often prescribe broad-spectrum antimicrobial therapies while awaiting culture results.
The ability to detect MRSA or SA in less than one hour will support informed antibiotic use. Prescribing antibiotics of last resort should be reserved for those patients infected with MRSA, reducing the chance that microbes further develop antibiotic resistance.