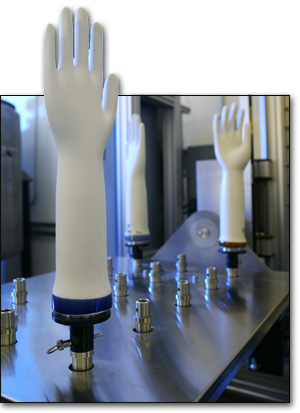 Latex glove use increased dramatically in the eighties largely as an outgrowth of the AIDS epidemic. Almost unheard of 20 years ago, researchers now estimate that 8% – 12% of healthcare workers have developed allergies to traditional latex.
In one well-cited study of blood donors, more than 6% had evidence of latex antibodies. Extrapolated to the U.S. population, more than 18 million Americans may have developed latex sensitivity. Severe reactions can include difficulty breathing, itching, rash, hives, and in some rare cases shock and death.
Yulex Corporation has developed examination gloves with patented Yulex rubber, made using guayule, a desert crop native to the U.S. Southwest. Yulex does not contain the allergic reaction-causing proteins seen in traditional latex products which use the milky sap of a rubber tree, Hevea braziliensis.
The company has the exclusive license on a patent from the U.S. Department of Agriculture to manufacture the substance. This week, Yulex received 510(k) clearance from the FDA.
Dr. Katrina Cornish, Sr. VP of R&D commented, "With more hospitals becoming latex-safe and latex-free, Yulex natural rubber now provides a safe alternative to both healthcare workers and patients who are sensitized to Hevea latex."
In 2006, ASTM, one of the largest voluntary standards development organizations in the world, created a new latex category specifying safety standards based on Hevea protein content without lowering the performance standards to accommodate synthetic materials. Yulex rubber is the only material that meets the category's safety and performance requirements.
The company has several other guayule-based products in the pipeline.
Competition will include neoprene and polyisoprene glove manufacturers. Though they cost 30% – 50% more, surgeons have found them to have the same fit and sensitivity as natural latex.