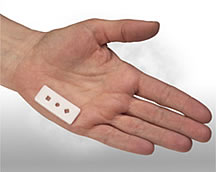 The FDA has upheld its decision regarding PreMD's not substantially equivalent letter received in connection with the company's 510(k) submission for an expanded regulatory claim on its skin cholesterol test.
PreMD submitted the 510(k) this June seeking to obtain broader clearance for the assessment of cardiovascular disease risk in individuals without known or suspected disease.
The company's PREVU Skin Cholesterol Test is a non-invasive measure of skin tissue cholesterol. Skin cholesterol is believed to be a risk factor for heart disease and can be used an as adjunct to CAD risk assessment.
The expanded claim would have dramatically increased the market potential of PREVU. Skin contains over 11% of the body's cholesterol and ages in parallel with vascular connective tissue. As blood vessel walls accumulate cholesterol, so do the skin tissues. A high skin cholesterol level is a reliable predictor of higher cholesterol accumulation in the arteries and, accordingly, risk of heart disease.
In the ruling, the FDA maintained that there are fundamental defects in both the study design and data analysis. The FDA's primary grounds for rejecting the 510(k) related to the clinical utility of evaluating skin cholesterol with carotid intima-media thickness as the clinical endpoint. Prior to its decision, the FDA had requested information regarding the statistical clarification on the data submitted. The company provided the information requested and believed that it addressed concerns to the best of its abilities.
PreMD remained hopeful right up to the end. Last week, Brent Norton, President and CEO of PreMD, commented,
"We believe that we have made significant progress with the [FDA] regarding our appeal of the non-substantially equivalent (NSE) letter for our 510(k) submission. We are encouraged by the FDA's request for additional analysis of the data and believe that this is a positive step towards regulatory approval in the U.S."
The company lost $1.3 million last quarter on product sales of $6,000. As of June 30th, PreMD had a scant $443,000 on hand. PreMD will work with its advisors and partners to examine its options.